Bags, bags, and more bags is what you will find in this category.
Drawstring back packs and both lined and unlined fabric bags. Maybe a few surprise bags along the way too.
Unless otherwise noted there is one of each item:
Drawstring backpacks measure 14 x 16.5 inches. Price is $7.50 plus $2.50 shipping.
Lined fabric bags measure 14 x 14.5 inches. Price is $4.00 plus $2.50 shipping.
Unlined fabric bags measure 16 x 16 inches. Price is $3.50 plus $2 shipping.
Purple Drawstring Back Pack
Wildlife Drawstring Backpack
This back-pack is a little smaller than the others measuring 15 x 14. Price is $5 plus 2.50 shipping.
Blue Rose Drawstring Backpack
Lavender Splash Drawstring Backpack
Raggedy Dolls Drawstring Backpack
Little Green Flowers Drawstring Backpack
Yellow with Small Flowers Drawstring Backpack
Furry Friends Drawstring Backpack
2 available
Light Yellow Flowers Drawstring Backpack
Rose Print Drawstring Backpack
Bright Yellow Flowers Drawstring Backpack
2 available
Light Yellow Flowers with Green Trim Drawstring Backpack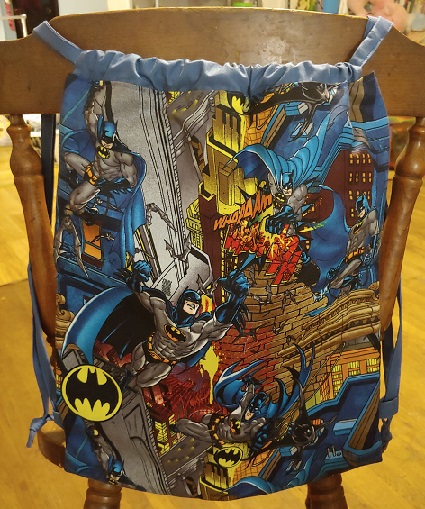 Batman Drawstring Backpack
Bright Flowers Drawstring Backpack
Green Stripe Drawstring Backpack
Quilt Pattern Drawstring Backpack
Turtles Drawstring Backpack
Red Bandanna Print Drawstring Backpack
Teddy Bears Drawstring Backpack
Fall Themed Drawstring Backpack