Ice cube trays are more versatile than you might think. I've made popsicles with fruit juice. We've frozen spider rings inside for Halloween punch. I've frozen herbs in butter for cooking.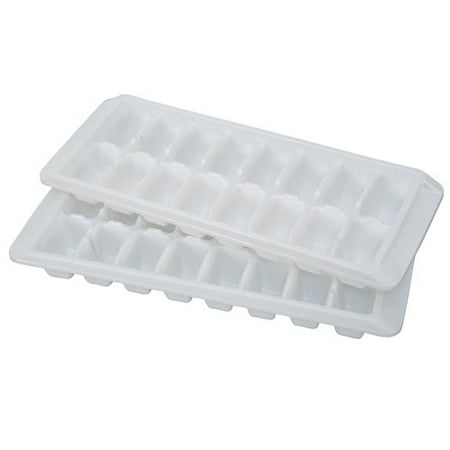 Here are some other ways to use ice cube trays:
Freeze baby food. My daughter has done this as well. You can let it thaw or keep it icy to help ease teething pain.
If you don't want to freeze the fresh herbs in butter, you can put a table spoon of herbs, top with a little water and freeze them.
If you don't like your beverage watered down with ice cubes, freeze the beverage into cubes—coffee, tea, lemonade, whatever you like–as long as it's not fizzy.
Freeze grapes or berries in water for a low fat frozen treat. You can store these in freezer bags once frozen.
Freeze the leftover tomato sauce or paste from your recipe for future use. Then there is no waste and you are saving money too. You can do the same with pasta sauces. Store the frozen cubes in freezer bags.
Make gelatin and gel it in ice cube trays in the refrigerator. Make several trays with different flavors. Awesome finger foods for the little (or big) ones.
You can even use ice cube trays in your draw to keep your earrings sorted.
Sweeten your tea by taking 2 parts sugar to 1 part water. Bring the water to a boil and dissolve the sugar into it. Once the sugar is completely dissolved remove from the heat and allow to cool. Freeze into cubes!