If you are like me, and many other people, you have a stack of paper bags somewhere in your kitchen. In this post I share many different things that paper bags can be used for.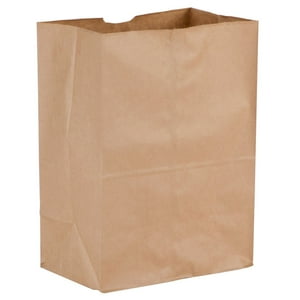 Blackout your windows. Taping brown papers bags cut open to your windows works just as well as the expensive black out curtains.
Wrap a gift. Whether you leave it as brown paper and use ribbon and bow to decorate, or have your children decorate the package, brown paper bags work great as wrapping paper.
Microwave popcorn. Use a lunch size brown paper bag, add 1/4 cup popcorn kernels and cook on high 2.5 minutes.
Store bedding. You will know where the whole set of sheets are plus the paper bag lets your linens breathe.
Clean dripped wax. Scrape off as much of the wax as you can then put a brown paper bag over the spot and press with a hot iron, letting the paper absorb the wax.
Contain a mess. In lieu of newspapers for those messy craft projects, or when peeling veggies etc, use a paper bag. It picks up for throw away just as easy.
Line your drawers. This works both in the kitchen as well as in the bedroom. Brown paper is sturdy, inexpensive, and absorbent.
Keep mushrooms fresh by putting them into a paper bag in the fridge.
Dry herbs by trimming them at the base and storing them upside down in a brown paper bag. They can breather while they dry.
Keep ice off your windshield by placing open paper bags under your windshield wipers.
Paper bags help ripen fruit. The bag will contain the ethylene, triggering the creation of enzymes. This causes the starches and acids in fruit to turn to sugar and to break down the cell walls to soften the fruit. Plastic bags will trap too much moisture and cause the fruit to spoil. You can speed up the ripening process of stone fruits by adding an apple to the bag.
These ideas come from the book 99 Cent Solutions: Easy Ways To Save Thousands of Dollars.