A lot of people will take worn towels and cut them to use for rags, but did you know there are other good uses for towels? They can do more than just dry you off after you take a shower.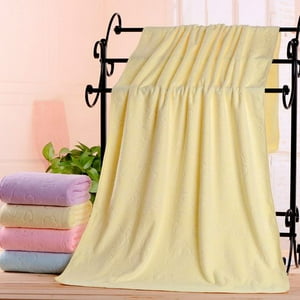 Do you have some clothes that need pressed but don't have an iron? If you have access to a dryer, just throw in a damp towel and run on air dry for 10 to 15 minutes to take away those wrinkles.
If you are in a hurry to get your clothes dry? Throw in a couple of dry towels into the dryer and your clothes will dry in half the time.
If you are going on a trip, place your potted plants on wet towels in the bathtub. They will soak up the water from the towels and not die while you are away.
Here's an interesting one if you are having trouble getting the cork out of your wine bottle. Soak a towel in hot water and wrap it around the neck of the wine bottle. The hot water will expand the top of the bottle making it easy to get the cork out.
Here is my favorite idea! Fold a bath towel in half, then roll it. Put the towel inside the leg of pantyhose to make your own back support. I really must give this idea a try.
What other uses can you think of for towels? Please leave a comment and share them.