Back in April the Mennonite Relief sale was cancelled do to Covid. I was sad. The one booth I flock to during the sale is Quilter's Corner. I found out that they were opening up for 2 days in a town close by. I knew I had to go.
It's Shop Hop time in my area as well (extended 2 weeks long due to Covid). One shop was in the town I was in for the Quilter's Corner sale. I hopped over to that shop. I then decided to go to the quilt shop here in my town. I had not been in since a new owner took over. Later in the evening I had hubby drive me to two more out of town shops.
I found lots of things that I needed, plus, of course, several things I hadn't planned on getting.
I'm still working on the quilting on my crumb quilt but it's moving along. My hope is to finish the quilting, trim it, and sew on the binding before Friday. I can then take it to my little sewing group on Friday to work on hand sewing the binding down.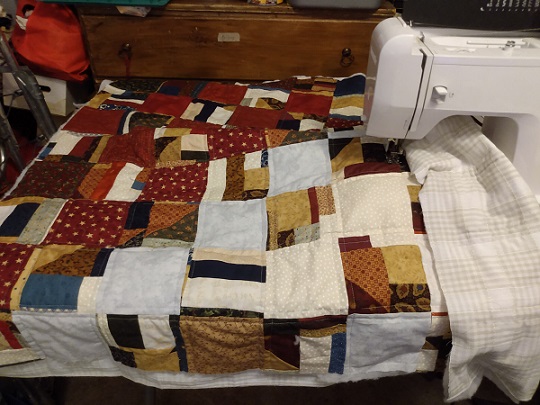 I did cut more blue strips for my Waves of Blue locker hook rug. I also got them sewn together. Seems I didn't get a picture taken before I put the rug back into it's project container.
I am linking up with the following blogs: