Wouldn't you know it. The month that I don't look to see what the color of the month is with the So Scrappy blog, the color is yellow. Yellow is my favorite! I had to find something to work on so I got out my little yellow squares and I'm working on 2 sets of 3 hot pads with them. Aren't they pretty?
I got started on the candy cane fabric wreath. Yes, I knew I was far from having enough strips, but I wanted an idea of how it was going to turn out. (excuse that I took the picture on my little ironing board that a grandchild had fun with a Sharpie on)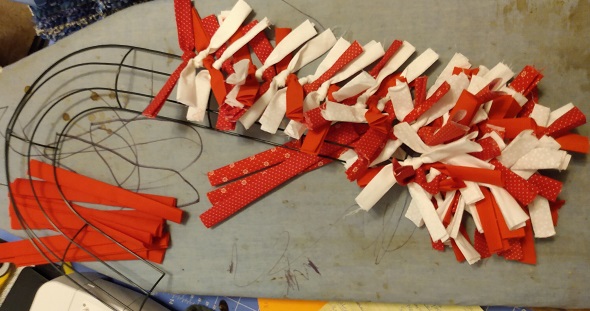 In other WIP's, I am still working on finding materials to sandwich the bright colored 5 and dime quilt.
And, I finished the Waves of Blue locker hook rug. You can find it in the Home Decor section of my store.
I'm still happy that I'm finding at least some time each day to work on projects.
I am linking up with the following blogs: