Hey, it's Wednesday, so this post is on the right day this week. And, I made some progress in projects this week. Unfortunately no work done on my hexagons for 2 weeks, which means that none that I made got sewn on to the project.
I've stuck with my card that tells me to work on a rug on Sunday's. After a few weeks, I finally have the strips sewn together.
I have a nice start on the Valentine's fabric wreath. I should have it done in the next couple of days.
As for my One Monthly Goal with Elm Street Quilts, I have finished one rag quilt. Due to an oopsy I will have to wash and dry it before putting it up on the Quilts and Blankets section of my Crafts and Sewing Store.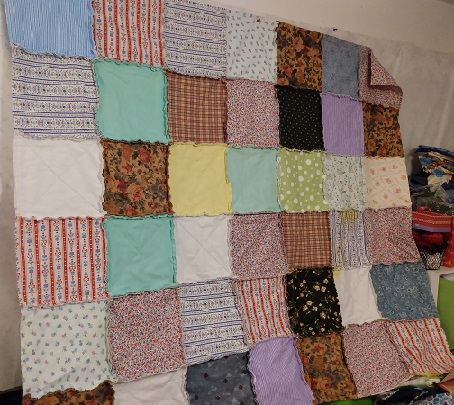 For more information on the One Monthly Goal with Elm Street Quilts, click the button below. I am linking up there.
I am also linking up with the following blogs: