Yes, I missed a week yet again. Just another of those week's where I felt that I didn't have enough to show to write up a post. I've been busy since last Wedneday and my WIP's are moving along.
Let's look at my to-do list from 2 week's ago.
Finish current jigsaw puzzle–still not done, but getting closer.
Find crochet pattern for hacky sacks and start making those to add to my booth.–DONE! I have 7 made and in my booth so far.
Finish 4 covered notebooks for my booth. –FAIL–still haven't done this yet I've sold 4 more in the last week.
Finish the purple rug.—pretty close to being done.
Work on the selvage rug.–FAIL–didn't work on this yet again.
Start knitting a new scarf.–I have a nice start on a new scarf.
I was given a large bag of yarn by a woman at church to make prayer shawls. In my picture you will see my little start on the first one. You also see the purple rug and one of the hacky sacks. Under all of that is the fabric cut to make 5 covered notebooks.
I intended to post last week and took a picture of the jigsaw puzzle. It's a LOT closer to being done now.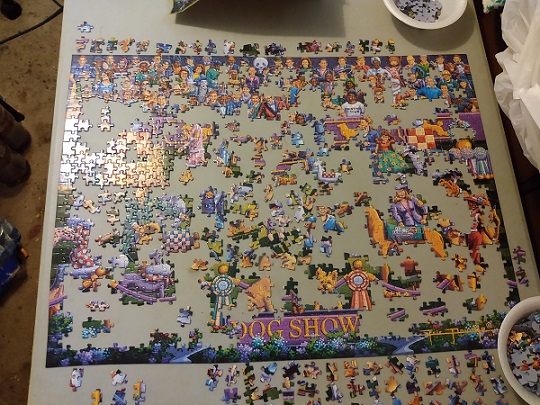 Let's see about a to-do list for this next week:
Finish the purple rug and start on a red one.
Finish knitting the scarf.
Make 5 covered notebooks.
Crochet at least one row each day on the prayer shawl.
Make 3 more hacky sacks.
I am linking up with the following blogs: