I had a run on selling the microwave cozies in my booth, so they took over for a few days this past week. I still have a pile to make which you will see in my photo below. I still think I did pretty well on my to-do list. Let's see:
Finish current prayer shawl and start another one.–DONE
Finish the knitted scarf and start on another one.–DONE
Work on the yellow crocheted baby blanket.–worked on
Crochet at least 3 hacky sacks and at least 5 scrubbies.–still in the process.
Finish the doll blankets and pillows and get them to my booth.–DONE
I believe I need to go back to a "schedule" of ONE project to work on each day of the week. I jump from one project to the next, only getting a little bit done on each per day. This means that nothing gets done very quickly.
In this picture you can see that I have hacky sacks started, the knitted scarf, the prayer shawl, crocheted scrubbie, and the crocheted baby blanket. In the back are items that are done to get priced and taken to my booth.
Here is the stack of microwave cozies that I am working on. I was thrilled to find that I had enough materials to keep my booth stocked up for awhile.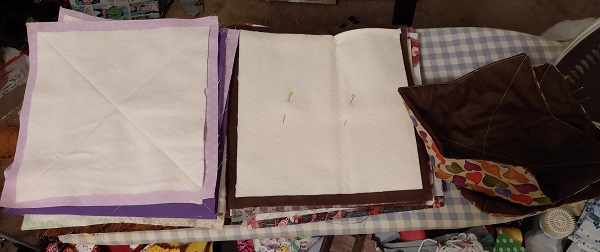 Let's see about a to-do list for next week. Only 2 items for now as I see how the daily project list works for me.
Listen to the Bible daily while working on the prayer shawl.
Make a daily project list and stick to it.
I am linking up with the following blogs: