In last week's to-do list I only had two items.
Listen to the Bible daily while working on the prayer shawl.–DONE
Make a daily project list and stick to it.–List made.
This is the schedule I made for myself:
Sunday–Rugs
Monday–Cozies
Tuesday–hacky sacks
Wednesday–baby blanket
Thursday–scrubbies
Friday–knitting
Saturday–misc. sewing and crafts
I am hoping this will motivate me to work more on getting things actually finished instead of doing a little of each per day.
We have our guild challenge now. Another quilting friend showed me a picture of a quilt and I loved it. I plan to use that idea for my challenge, which will be a table topper or wall hanging. Here are the instructions and piece of material to use.
Here's my project picture. I worked some on more snippet monsters, made 2 scrubbies, worked on the cozies and the knitted scarf. I forgot to pull over the new prayer shawl for the picture.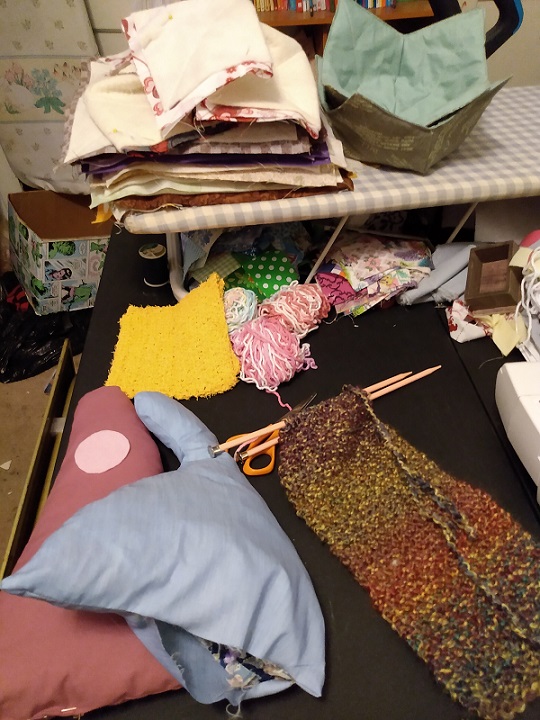 As guild librarian I am to buy a new book for the library every quarter. I stopped by the quilt shop and picked out a book. Of course you can't leave the quilt shop without checking out the clearance area. I was excited to find a kit to make a tag along blanket on the clearance shelves. Something nice to make for my grand daughter that is going to make me a great grandma. —- Now I'm kicking myself for bagging up and selling the lace and ribbon I had and selling it in my booth. I'm thrilled that there was enough in the kit for me to make another of these out of my stash.
Short to-do list for this next week too:
Listen to the Bible daily while working on the prayer shawl.
Work hard to stick to the schedule I made for sewing and crafts.
I am linking up with the following blogs: