It's not been intentional to miss so many weeks of posting. Besides the holidays there have been many other things keeping me busy.
The first week that I missed, I was taking my oldest daughter to be admitted to a hospital in Wichita, KS. She's diagnosed with type AML leukemia. She is still in the hospital and it's looking like she will be there for at least another 3 months. This is a scary time, not just for mom (me), but her siblings and her six children as well! If you are a praying person, please add Elizabeth to your prayers.
Otherwise, I was sewing and crocheting away to keep up with what was selling in my booth. December was great for sales with people buying for gifts. I had a hard time keeping up with the doll blankets, hacky sacks, coasters, scrubbies, pocket tissue covers and microwave cozies.
I'm on a hiatus from sewing at the moment and working on a jigsaw puzzle. However, I know that I shouldn't be as I still need to restock for January!
I took these pictures at least 2 weeks ago.
First, the rack in my booth where I am hanging the tag along blankets that I was making. I still have some of these to make but stopped to keep up with the other items.
This was my progress on the current prayer shawl and the baby blanket that I am crocheting.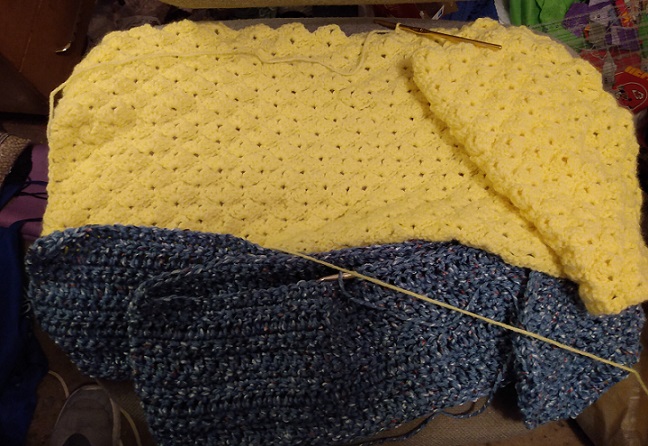 I took a picture today of the current progress on both of the above, but for some reason I can't get it to transfer from my phone!
Oh let's see, can I make a to-do list??
Finish jigsaw puzzle
Continue daily to listen to the Bible read on my computer and crocheting a prayer shawl.
Cut materials needed for a new batch of microwave cozies.
Get a start on really organizing my room.
I am linking up with the following blogs: