There is lots for me to share with you this week. The past several posts I've only had 1 or 2 pictures. Today I have quite a few.
I volunteered to stay with my mom for a few days after she was released from the hospital last Thursday. I am still here as the different agencies feel that she needs 24 hour care. We are having trouble finding a home with openings. I'm no longer planning on making it to the retreat next week. As you know, I already had several projects here at her apartment, as well as my sewing machine. I did make one trip this week to my house to get more thread and instructions for crocheting the hacky sacks.
My daughter is back in the hospital for 6 days of chemo, another bone marrow biopsy and a lumbar puncture. She went in Monday.
Last week's to-do list:
Finish jigsaw puzzle–haven't been home to work on this.
Continue daily to listen to the Bible read on my computer and crocheting a prayer shawl.–Done
Finish the top of Ariel's baby quilt.–Done
Cut fabrics to make more pin cushion scrap bags.–Done
Finish 4 pocket tissue covers.–Done
I've been listening to the Bible read out loud here at my mom's and I think she has also enjoyed listening with me each day.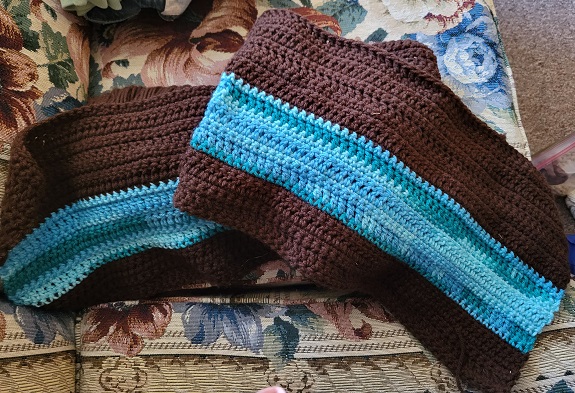 The first thing I finished here at mom was Ariel's baby quilt top. Next step on it is to take it to the makery room at the public library and embroider the baby's name on it.
I have these fabrics cut to make 4 pin cushion scrap bags.
And…..I even finished one of them and it's now in my booth.
My goal for the last week was to complete 4 of the pocket tissue covers. I finished 5, plus have 7 more to finish up.
I even got a start on my quilt guild challenge.
In addition to the pictures, I finished 2 patchwork hot pads, 2 microwave cozies, 2 scrubbies, and have a start to make 2 hacky sacks.
Once I do get to go home, I really must figure out how to get the time I've had at mom's to do crafts at home. After all, I'm having to fix the meals here, wash dishes, help with laundry, help with her bathing and dressing, and more. All of that takes time as well.
Here is my to-do list for this next week:
Get to the library to get baby's name embroidered on the baby quilt.
Continue daily to listen to the Bible read on my computer and crocheting a prayer shawl.
Make 4 covered notebooks.
Finished another pin cushion scrap bag.
Make 4 microwave cozies.
I am linking up with the following blogs: