Wowser! Wednesday's used to be my "slow" day, but it's not been like that the past couple of months. I've not posted since April 13th.
I'm going to post my last to-do list regardless.
Continue to work at last a little each day on cleaning and organizing my room.–Not so much.
Sandwich my round robin quilt.–Done and completed
Crochet at least 3 hacky sacks.–Done
Continue daily Bible listening and working on prayer shawl.–Done
Get 5 microwave cozies made.–Done
Crochet 4 scrubbies.–Done
Finish Leukemia Awareness fabric wreath.–Done
In my absence from posting I did get quite a few items made to put in my booth. One of my sewing machines was in the shop too. My oldest daughter was in the hospital out of town for another round of chemo. There were personal things going on at the house as well.
Enough of that. I finished the Leukemia Awareness fabric wreath and have given it to Elizabeth. Her response was "sweet" and she said she would hang it on her front door.
Once my machine was back from the shop, I actually sat one day and finished my Round Robin quilt. So, I am set for this month's guild meeting and the UFO challenge.
I took a picture of the microwave cozies that I took into my booth this week.

I'm still loving the 5D Diamond art. It's such a nice relaxing break from my everyday—even though working on them has become part of my every day. I posted this one in my last post, and now it's finished.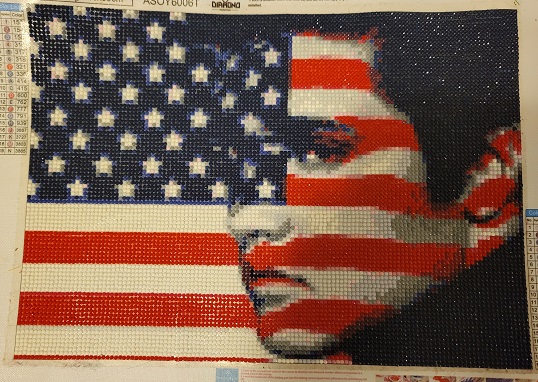 I brought this one to my mom's to work on here and there.
I told myself that I wasn't going to start another one at home until I finished up some other projects, but then couldn't stand it. I'm working just a little each day on this very colorful owl.
I am linking up with the following blogs: