I am done turning that huge roll of 5 inch strips into smaller ones for my rug making…..finally! More on that later in my post.
Here was my to-do list from last week:
Continue to listen to the Bible and crochet on a prayer shawl daily.–I actually a couple days 🙁
Clean off table and put up sewing machine.–No
Find my box of beads.–No
Get out and ready to work on whatever UFO is pulled to work on at quilt guild.–Still in the project box.
Continue daily to work some on cleaning and organizing my sewing/craft/office room.–Somewhat
Sew 2 pillowcases for charity.–this has to be done by Monday!–No!
Tear the green strips into small strips.–DONE!!!!
May as well start with the strips. I spent one evening just over 2 hours cutting and tearing, but found that really messed up my lungs from the fabric dust. So, I worked diligently on not much of anything else but using scissors to cut the rest. Getting the huge roll done but part of getting my room cleaned and organized too.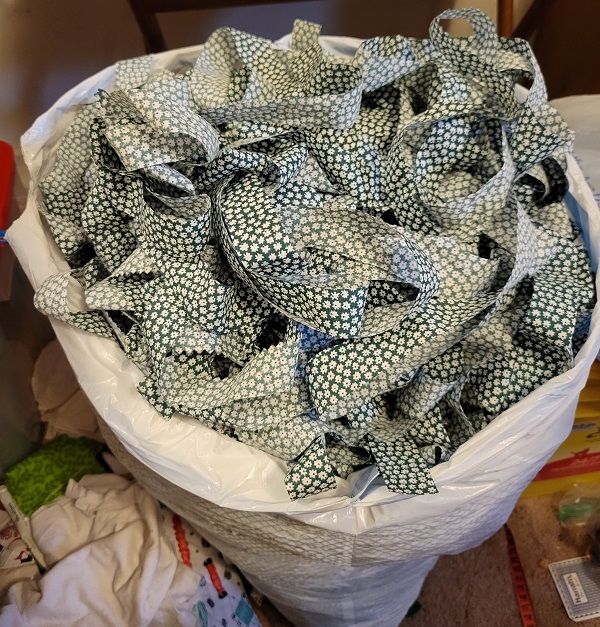 I spent one evening at my mom's sorting thru the 3 large bags of "stuff" I had at her apartment. Once done I was left with just one bag, holding fabrics for specific projects. Another evening I had a few hours of pressing and cutting time for those projects.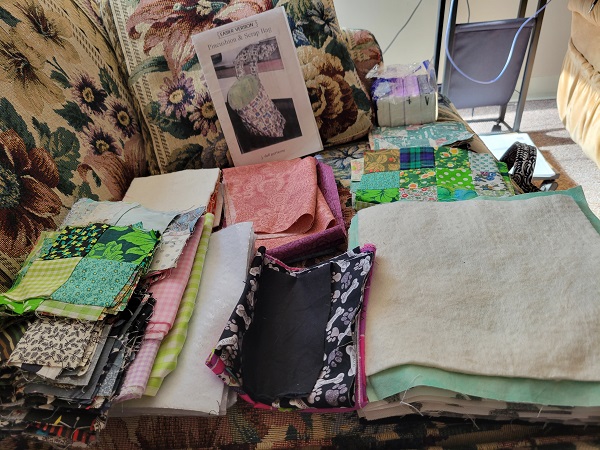 Yet another evening I had a few hours to actually sew. I only completed 3 items—1 cozie and 2 notebook covers.
Here we go again for my to-do list to be basically the same.
Continue to listen to the Bible and crochet on a prayer shawl daily.
Clean off table and put up sewing machine.
Find my box of beads.
Sew the backing for the Lexington quilt.
Continue daily to work some on cleaning and organizing my sewing/craft/office room.
Sew 2 pillowcases for charity.
Crochet 5 hacky sacks
I am linking up with the following blogs: