I call what I've been working on here and there mindless crafts. Things that I don't have to count stitches etc.
My daughter did come home for hospice care to my house on May 5th. I tried really hard to take care of her. It was just too much mentally and physically for me. She was moved here to the hospice house May 8th. She was able to make it to her grandson's 1st birthday party in the park on the 6th. Being immobile the guys picked her up to place her in the wheelchair and my van to get there and back home. It took a lot out of her, but made her smile.
I brought my laptop to the hospice today.
I had been taking my cross stitch to sewing group and getting a little bit done on it. I've now been working on it just a bit each day here at the hospice. I still have a very long way to go before it's done.
I used what I had left of scrubbie yarn and made 6 scrubbies.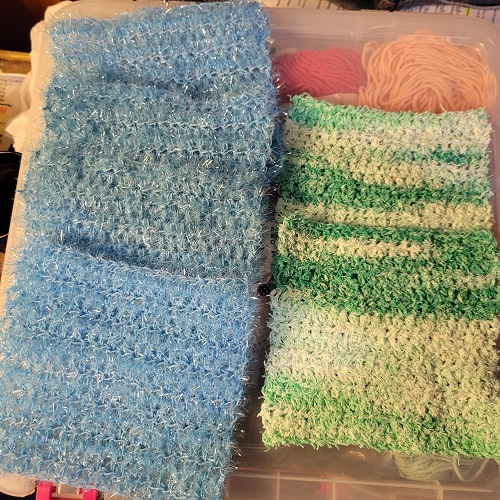 I have Sunday down as my day to work on my diamond art. Can you tell yet what the picture is? If not, I'm sure it will be clear the next time I share it.
These plastic canvas squares will soon be jingle bell blocks.
I actually had packed for Kansas City before Easter. One bag with all my clothes, another bag with jigsaw puzzles and diamond art, and 3 project boxes. I have decided that I think I will still just work on the crafts from those project boxes for the 3 months anyway. So far I've only gotten into the one with the crochet.
I still don't want to make a to-do list as I don't know what each day will bring.
I would like to say though, we are doing a fund raiser for final expenses as Elizabeth has no life insurance. If you feel so inclined, please share the link: Angelinks fundraiser to prepare for final arrangments.
I am linking up with the following blogs: