I just don't know what my title should be. Elizabeth was called home yesterday morning. Our fundraising has gone well and it looks like we will be able to do all that we wanted to for her. She sure will be missed. I'm still feeling like it can't be real, but I know that she is no longer in pain and is watching over all of us.
I didn't get a couple of pictures taken so will share those next week.
I finished the 2 jingle bell blocks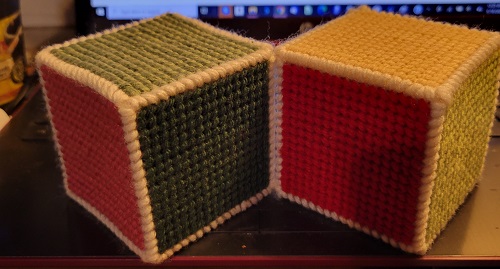 What I had in my project box was only enough "stuffing" for 3 snippet monsters.
Now you can see what's up with the diamond art-Star Wars! I will wait until I finish it to show it again.
As far as crafts go this next week I plan to continue on my printed cross stitch and the rug that I started–and my Sunday diamond art, of course.
I am happy to be able to link up with the following blogs:
An Angel Walks Beside Me Keychain