Rugs, Jigsaw Puzzles, and Diamond art is what I worked on while we were camping. The toothbrush rug I worked on some once we were home.
I only had to work on crafts and sewing that were packed in the camper on my to-do list. The crafts got side tracked somewhat when I realized that I had put a 1000 piece jigsaw puzzle in the cabinet that I had found in some of Elizabeth's stuff. For years I have asked hubby to help me work puzzles. I guess it took camping and nothing else really to do for him to help me. Unfortunately we finished the puzzle to find 4 pieces missing.
I had given this set of small puzzles for Christmas this past year since she could put them together on her hospital bed table. I put them in the camper for the kids, but ended up doing them myself. They are glued and I am going to put magnets on the backs of them.
I did spend part of one day starting a large Diamond Art. I think this sunset picture will be beautiful when it's done.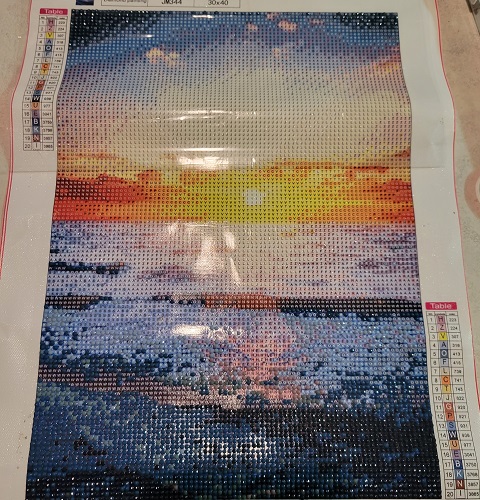 I spent one day working on the lockerhook rug. I figured out that I could use that hook to make the doll rugs since I use selvage to make them. I put the toothbrush rug in the middle of the lockerhook rug along with the one finished doll rug and one almost finished doll rug. I did this so you could gauge the size.
Let's see what I hope to accomplish by next Wednesday:
Work work work on getting my sewing/craft/office room in order.
Finish the multicolored toothbrush rug.
Take another load of donations items to the Fair Priced Clothing store.
Cut batting and fabric for another batch of microwave cozies.
I link up with the following blogs: