I've always been a busy person. Family nights have started on Wednesday evenings at the Methodist church again. This makes it a lot harder for me to find the time to put this post up each week. I didn't post last week as I also had sewing group in the afternoon as well.
My to-do list from 2 weeks ago–
Work work work on getting my sewing/craft/office room in order.–can't say that I worked worked worked, but did work on it.
Finish the multicolored toothbrush rug.–decided I want it bigger yet.
Take another load of donations items to the Fair Priced Clothing store.–Done! And it was $3 a bag day so I was able to get several picture frames for my diamond art.
Cut batting and fabric for another batch of microwave cozies.–Done! And they are mostly done.
You know how I love the diamond art. I had gotten another one in, another one with words. I just had to know if the words would show up on this one. It is since in a frame ready to take to my booth.
I could stop the rug here, but I really feel it needs to be larger.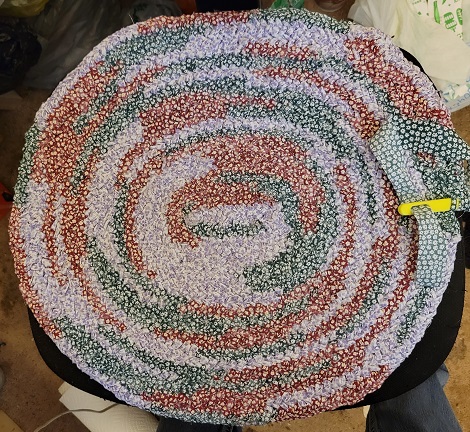 10 microwave cozies are ready for the final sewing around the edge.
This evening's Life Lesson at the church was Jesus and Checklists. I came away with quite a few insights. Also this past week I joined Grief Share. This group meets each Sunday from 3 to 5 pm for 12 weeks. The first meeting was good. Six weeks ago I started an Tuesday evening Bible study when I already have a Tuesday morning one.
So let's see what I can put on my to-do list for this next week:
Finish the 10 microwave cozies
Make a check list every night for the following day.
Finish the multicolored toothbrush rug.
A good effort to clear more out of and organize my sewing/craft/office room.
I am linking up with the following blogs: