Yep, Lemmy Lynn Elizabeth was a work in progress for 9 months and she is now here! She was stubborn and didn't turn. The Dr. got her turned, but then the induction wasn't doing anything. 12 hours later my daughter had a c-section. Long day but so worth it!
As to sewing and crafts, here is my list from last week:
Get a good start on making the fabric bowls for Christmas.–done
Make a check list every night for the following day. –done
Continue to work on red and green toothbrush rug. –done
Work on cat cross stitch.– done
I'm choosing not to take pictures of the rug and cross stitch. I worked on both each day, but not enough to warrant sharing a picture. This is my progress on the fabric boxes to fill for family Christmas gifts. I also worked some on them each day as well. I think they are turning out really cute.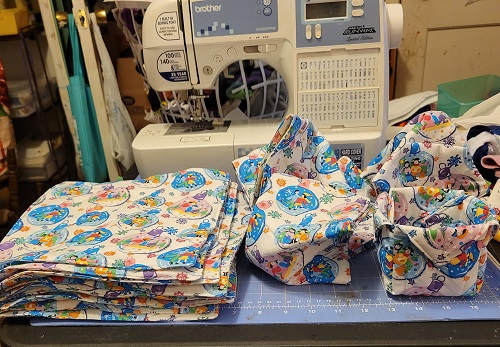 For next week I hope to:
Really figure out what needs to be made for my booth and find time to make the items.
Continue to work on rug.
Continue to work on cross stitch.
Learn some exercises to do daily.
I link up with the following blogs: