Sad news. News that probably will keep me from posting for several weeks. I can't say that for sure.
Those of you who have read my blog for awhile know that my daughter was diagnosed with leukemia just after Thanksgiving in 2021. It's been a long road for her and she has been very strong through all of it. However, sadly, there is no more care they can give her other than meds to keep her comfortable. Her wish is to come to my house. I'm feeling pretty numb, but trying to work on preparing my house.
So, here is my list from last week:
Sandwich Pennies From Heaven quilt.–done and finished
Cut more scraps into squares.–done
Complete the top that I am making with the Cupcake recipe cards.–at least a start
Here is what I got cut into 5 inch and 2 1/2 inch squares from my scraps this last week.
It's a slow process using the Cake Mix Recipe cards, but I am enjoying it. I put what I have done on the design wall. You should at least be able to see the pattern I am going for.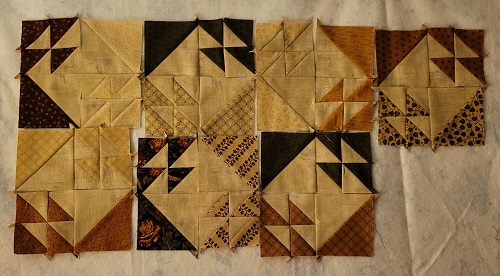 I just spent an evening finishing up the Pennies From Heaven quilt. It's from the Loose Change quilt book. I used my own colors though.
I won't make a list for this coming week. Only one thing I need to concentrate on and that is my daughter and taking care of her.
I am linking up with the following blogs: