This week is a whirlwind! A little time here for this and a little time here for that. Not near enough time for the things I feel I really need to get done. I did get a booth at the Market. I will move in May 1st…….after I have sat at my daughters for a yard sale all day. I'm going to be even exhausted than ever.
Let's look at last week's to-do list:
Get as many projects completed as I can from the table and get projects in their own bags to clean off the table. —I did get quite a few projects done, but not near as many as I would have liked to. I got SOME of the table cleared off, but must finish that to have the table for the yard sale.
Work on the Fields of Green rug.– This was a total no-go.
Get binding hand sewn on to the colorful 5 and dime quilt.–DONE!!
Here is the finished quilt!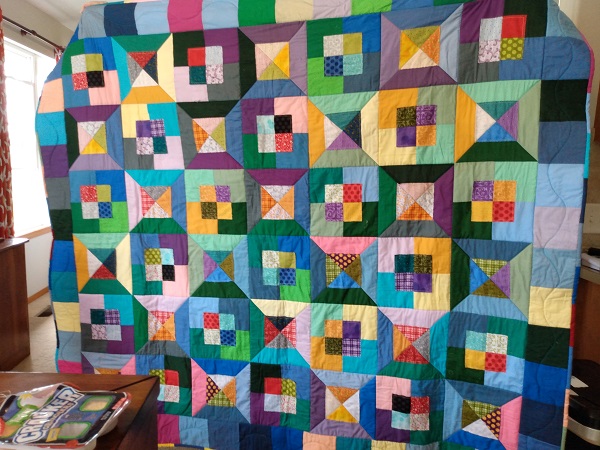 Finishing this quilt was my April goal with Elm Street Quilts One Monthly Goal. Click the button below for more information and to see how others did on their monthly goals.
To-Do List for next week:
Finish a minimum of 12 items to add to my booth.
Decide what my One Monthly Goal will be for May.
I am also linking up with the following blogs: